Showing 1–12 of 123 results
Lightbox Technology
The Art Photography is HD UV-printed on a specific lightbox textile, fixed seamless in the lightbox frame.
The Lightbox, single side, 24V with dimmer, black profile is to be hang on a wall.
Important spec to know:
– Indoor lightbox
– Single side display – wall mount
– Edge lighting with reflective back white fabric
– Frame thickness / colour : 60mm / black
– Delivered dis-assembled with assembly instructions
– Voltage: 24V – in according with CE electrical regulation
– Led colour : Daylight : 6500Kelv -7000Kelv.
– Power supply & dimmer fixed inside the frame
4 Sizes available:
– Small            ->      800 x 1200 mm
– Square         ->     1000 x 1000 mm
– Medium        ->     1200 x 1500 mm
– Large            ->     1200 x 1800 mm
Since 2008, Fybo Belgium sprl (Mother Company) is committed and specialized in design, manufacturing and import of indoor sign displays under the commercial name 'Fybox' for the BtB market.
In 2021, a new adventure is starting for our team, with Gleam Gallery, adding us the BtC channel, on an artistic level.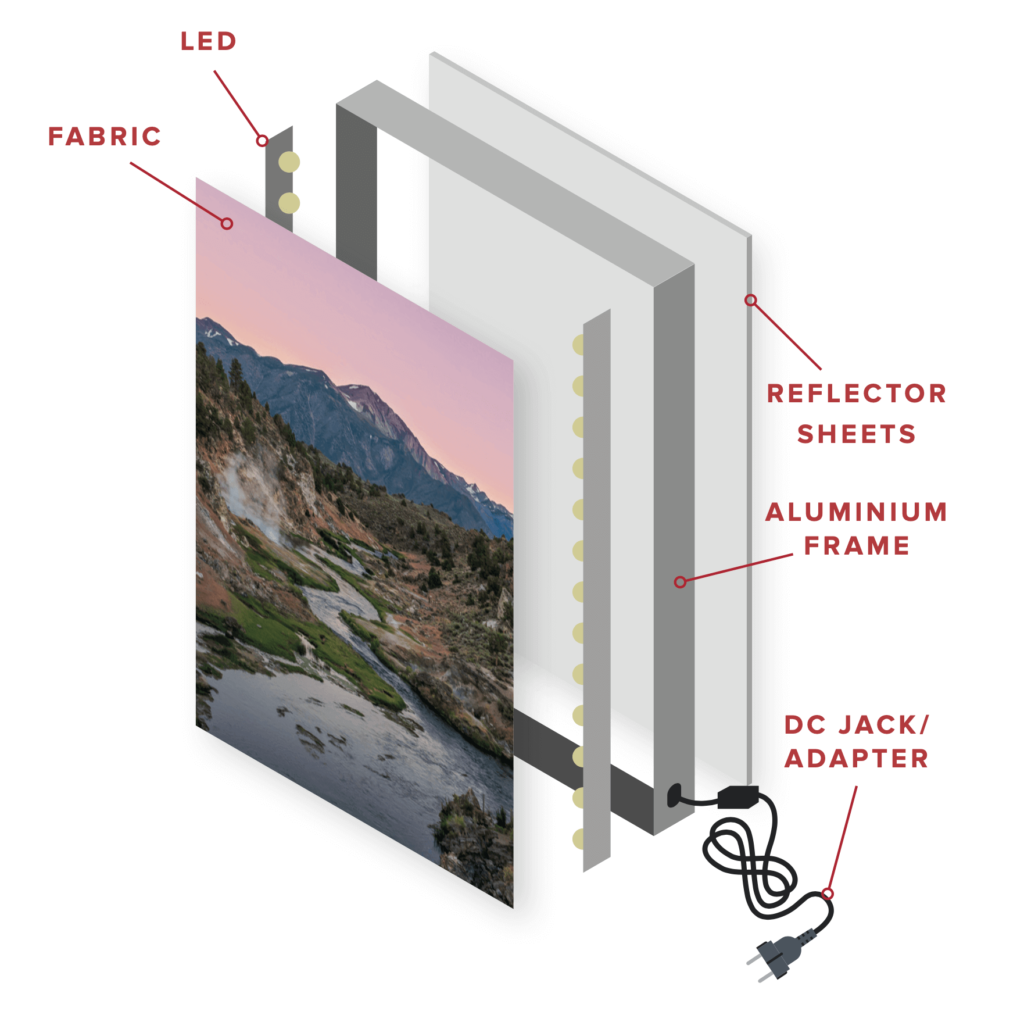 Gleam Gallery is an online platform founded to promote the emerging art scene, using lightboxes as medium. This medium has been borrowed from contemporary art exhibitions. Gleam tries to keep distance from decoration or traditional forms of photography presentation.
Our mission is to generate a more democratic stream within the art market, both for artists and art buyers.
We provide an affordable marketplace and support structure for a distinctive and engaging program, with a focus on community building around undiscovered or/and recognized talents and art-lovers.
Contrary to the sometimes inaccessible circuit of art galleries, we are open to submissions. Each application will be assessed by the site's artistic team.
Supporting artists, giving them the possibility to be discovered & seen and even get paid for their art, is the idea that lies behind Gleam Gallery. The lightbox in sizes XL is a tremendous tool to bring additional presence in their work.
Discover, stay tuned with our artists' community and enjoy the journey.